While Steve was toiling away at Fort through family camps and kids camps, the rest of us took off. First it was off to Racine to drop off the kids by Grandma Grant.
A little time swimming in the pool:
Then I took off to Chicago for a conference and some training while the kids spent a few days with Jim & Karin and kids. I then came back and spent time with the Sieferts (well the kids more than me...) I was too busy attending a SURPRISE bridal shower for my cousin - she was surprised - wish I had a picture of that face!
We attended the Racine Municipal Band Concert at the zoo. It's hard to believe it was over 15 years ago when I first played with them!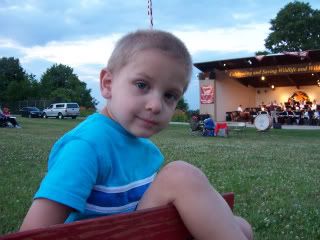 Monday was spent around town. Everything in the city is an adventure to my kids. It was funny to realize how much they don't experience living up here! In the same sense, it was great to realize that too! Also, up here they get to learn things about nature that I'm just learning along with them!
Here was a visit to the park where we took my brother's dog to play:
...and Sammie got to visit Darian whom she hadn't seen in years... (The daughter of my best friend growing up.)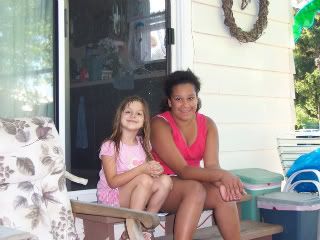 The ride home was warm so Sammie (who has been growing her hair for over a year for Locks of Love) boldly announced, "I want my hair cut short today, ready or not!" We stopped on the way home and it WAS long enough - YEAH! That meant a free haircut and hair sent off to help someone - what she had been planning on doing this past year.
Before: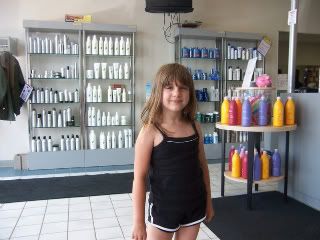 After (what a cutie!):
Well, after the haircut, we had First Responder training and then right back into work and other activities.
Now, last night was a new adventure...
We bought our house 7 years ago. One spot in our yard was just slightly higher than the rest so one summer Steve dug to even it out...and dug...and dug...
You see, he discovered some tires there. So, tonight we paid for use of a backhoe and Jim and Ryan came over to help. After some time and MUCH digging, we have 120-130 tires stacked in our yard! YIKES! Before our house/basement were built on the property, there was a trailer there. We believe that owner had built a storm shelter out of these tires. Steve found parts that hint to a heater, generator, light and other things. When the house was built, they must have just filled in the hole and buried the shelter. Since we don't have money to spend on fill, we are going to put a little pond there now. (We have all the parts for that.) ...and let me add tire disposal is $3.00 a tire. Sigh...
Does anyone need a tire swing?
Well, the good news is our plants are actually growing and the kids are having fun.
Here is Sammie's latest catch - a frog! (Don't worry, she let him go later!)
Well, there is a lot to do before registration tomorrow so we've got to run!