Well, the annual Sno Rodeo is in full swing! Elmbrook came up on Dec. 27th and we actually had snow this year to welcome them! The kids and I spent most of the day at camp today. We first went cross-country skiing, then tubing and then to Campgrounds (the coffee shop) to greet past staff and warm up. I realize times aren't what they used to be. There are kids out doing stuff, but the ski trails were fairly empty, the tubing hill only had a few but the coffee shop and dining hall were pretty full! When I first came to Fort, you weren't sure if you could fit in cross-country skiing because there may not be enough skis available. Now, we're not sure if we can sit down and have a coffee, but the trails were empty. Interests are sure changing! I encourage any families coming up to get the kids out on the trails and in nature. It was great exercise and they can learn a lot.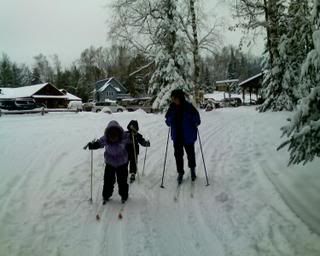 Off we go...
Kyle is doing great...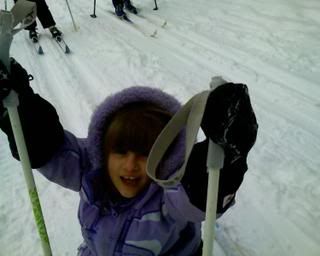 Sammie was too...except this fall.
Rolling down the hill after tubing
Sammie the Snow Angel