So, all the signs of spring are here activity-wise...spring recital for Sammie, birds coming to the feeder (since the bears have been staying in camp), and school coming to an end. The frost the last two nights have almost made us think otherwise though!
Summer staff comes in this weekend so it will be a busy time!
Enjoy the pictures Kyle and Sammie took!
Sammie's Recital Program: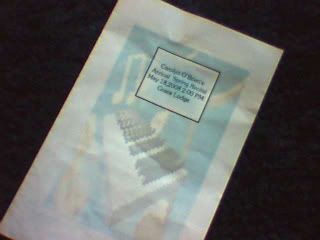 Sammie playing at her recital with teacher Carolyn O'Brien (former Fort Staff) in the background:
Kyle's picture of Herb Olson (husband to Bev Olson - former Fort office staff from about 20 years ago):