So, today was Day #2 of camp for the year! There are about 150 Jr. High students that have invaded camp for the week!
After church and town, we packed up, attached the dogs to the bicycle joggers (don't have a picture but it is two metal arms attached to the bike that the dogs hook onto). Then the kids hopped in the kids trailer attached to the back and we headed off to camp for the 3 mile bike ride.
As soon as we got there, the dogs needed to cool off!
It didn't take the kids long to join in! Sammie wanted to take a "swim test" like the kids and she passed the "Intermediate" test. Of course Mom isn't ready to leave her in water over her head without someone watching closely!
Kyle joined our head lifeguard Stephanie in the water.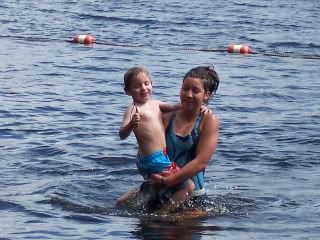 Sammie then thought it would be fun to ride on Maverick: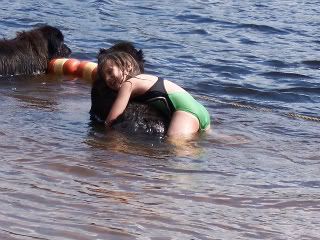 After all that exercise, they all needed rest, but Sinjin sat on guard!
The Jr. Highers gathered around the flagpole for dinner...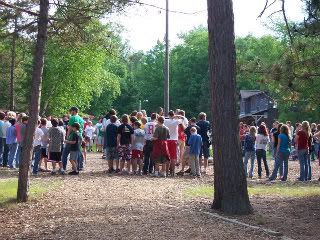 Steve and Ryan and a few others grilled the chicken...
So, now you're wondering where the two bears come into the day. Although there are an abundance of black bears in the area lately, we didn't see any today.
However, as the kids stayed at camp with Dad, I rode the bike back home with the dogs. More than one person stopped to see if I was o.k.! You see, Maverick has lupus and his paw started acting up on the way home (pads get tender). As we stopped and rested, people would see us from a distance and thought I had two black bears attacking me. Then they would get closer and realize it was just two dogs.
This is not the first time that has happened, but it was still pretty funny!
Well, now we all need a good night's sleep to get ready for the rest of the week!