Sammie's school had their Winter Fun Day at Fort and it was truly exhausting! I wish I had a camera out for the kids boarding the busses to go back to school. The little ones were wiped!
I took off work today and we also let Kyle come with too so he wasn't left out. We went on a sleigh ride (per Kyle's request), had a snack of peanut butter and crackers, went cross-country skiing and took Bridget with us, had lunch, and then went down the tube hill a million times. Let me tell you, those 54 large steps get steep while carrying up 3 tubes at a time. For tubing, Lizzy, Bridget and Jackson Rich came with us. The girls carry their own tubes, but Jackson and Kyle don't make it too far so this mom gets the job! After that, Sammie and Kyle joined Daddy in the Ski Haus and I took two women that go to Zion Lutheran Church in town around camp and explained camp, showed them the Infirmary and explained the story of Payton and how it got built, showed them cabins, the waterfront and a few other things. Many people in Rhinelander still don't know about Fort Wilderness so we get to share about it only a few miles from home.
Well, have fun seeing a few more pictures of the kids skiing and pray that everyone stays safe this upcoming weekend! Today was 20 degrees, by Saturday we are supposed to have a HIGH of -3 degrees - YIKES and BRRRRRRR!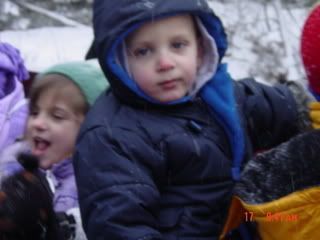 Kyle on the Sleigh Ride - Sammie in back singing with her friends.
Sammie getting ready to ski.
The kids ready to take off and have fun!
Bridget enjoying the snow!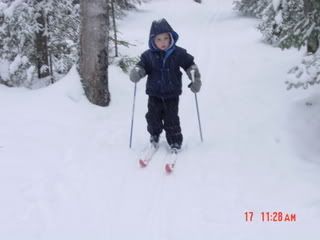 Kyle wondering where to go next.
The 3 Musketeers coming back.