So, the kids did so well skiing last night, I decided to take them again. At least my two. Well, we were about to get ready to leave when 3 other staff kids magically appeared...all wanting to go with too! So, we talked to parents to make sure it was o.k. with them too and let them know how long it usually takes us (so as to not worry them because we take about double the time of the adults trying to keep everyone together). We got boots, skis, and polls and zipped up all the jackets. Then we formed the line and started out!
It was about 10 degrees, lots of snow on the ground, so a great time to be out in nature!
Please forgive the quality of pictures, I did not have my camera with so we used a kid one which isn't made for nice pictures.
Here are 4 out of the 5: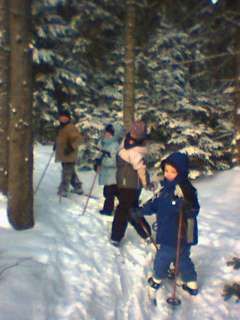 (Amos - age 8 1/2, Sammie - age 7 1/2, Bridget - age 8, Kyle - age 5)
Our two kids:
(Kyle on the left, Sammie on the right)
Just a nice view of the snow covered trees:
Kyle checking in and wanting to open up his jacket a tad:
One of the "intersections" where Kyle likes me to show him on the map where we are:
Proof that they do fall: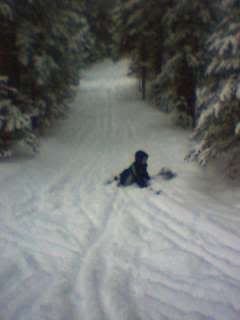 All five in age order: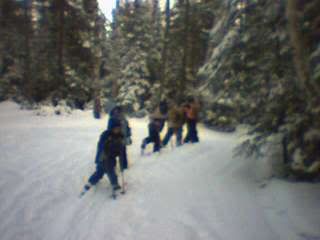 (Kyle - 5, Sammie - 7 1/2, Bridget - 8, Amos - 8 1/2, Lizzie - 9)
Kyle's downhill "form":
Naturally, Kyle got a little more photo time since he was closest to me.
The kids did a total of 2.2 miles again. None of the older ones needed help on any hills this round (up or down) or getting up ever. Kyle needed a little help on the steepest hill, but not too much!
It was great to see a lot of the Junior High students up this weekend skiing too.
We have Zionsville Fellowship from IN in this weekend and Westbrook. They seem to be having a great time so far!